LAI Games announces its exciting new game line up for this year's IAAPA 2014. Making their debut appearance on booth #415 will be: Mega Color Match, Mega Color Match Lite, Color Match Club, Mega Spin, Snapshot 2, Piñata Candy and Prize Box. Joining the new line-up will also be established winners Balloon Buster, Color Match Standard, UFO Express and maybe 1 or 2 other surprises…
Mega Color Match ©
Now the hit merchandiser Color Match is available mega-sized – a true centerpiece game for your location! Glowing in vibrant colors, this game of skill challenges players to match colors on a rotating disk to win a prize. Difficulty increases as players get closer to the Major Prize. Ticket/capsule and vend minor prize options. Major prizes are displayed and vended from 6 large window compartments. Game setup is easy and intuitive, with LAI's proprietary on-screen operator menu that practically eliminates the need for a user manual.
Mega Color Match Lite ©
The same huge, glowing cabinet is also available in a tickets-only version. Mega Color Match Lite has the great Color Match game play and vends tickets for both the Major and Minor Prizes. Three ticket dispensers for fast payout.
Color Match Club ©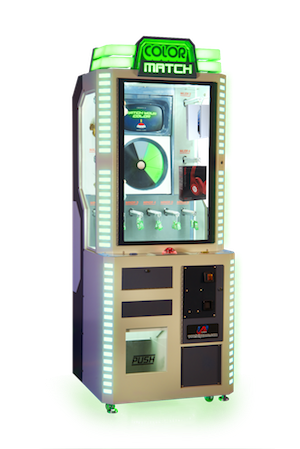 Color Match now comes in a compact size perfect for smaller locations and route operations! The stunning cabinet glows with multi-colored LEDs, with Major Prizes displayed and vended on prize arms. Minor Prize options include spiral vend, capsules, or tickets. As with all Color Match models, our user-friendly operator menu makes setup a breeze.
Mega Spin
Mega Spin is a mega-sized ticket redemption and 100% skill game! Players physically spin the giant wheel and either win tickets or move out to the next level where they can win even higher amounts of tickets. If they make it to the third level, they have a chance at the Major Prize or the Super Bonus Ticket haul! The huge, vibrant, glowing cabinet features three ticket dispensers for fast payout.
Snapshot 2
With fresh content, an intuitive, touch-screen user interface, and a host of modern photo-decorating features and filters, the Snapshot 2 photo booth gives players plenty to enjoy! The booth has dual cameras for the classic photo and popular "selfie" angles, and full mobile integration with the Snapshot mobile App available on iOS & Android. Players can transfer photos between the booth and mobile devices and share photos with an unlimited number of social networks and applications – plus import and print photos from their mobiles. With fully featured and upgradeable Classic, Masquerade, filter and decorate options, players have a huge choice to customize and print their photos. The folding cabinet makes for easy transport and Party Rental, and the quality dye-sublimation printer uses low cost media with no tie-in.
Piñata Candy
Piñata, the video redemption game where players whack a real-life drum to try to break the on-screen piñata, is now available in a candy vending version! Candy pay-out is adjustable and concise, and the huge candy hopper minimizes refills. Offers players 4 levels with 28 unique piñatas, and both English and Spanish language options. Our proprietary on-screen operator menu practically eliminates the need for a user manual!
Prize Box
Compact, cool and fun – that's exactly what you get with Prize Box. This fresh take of the traditional crane game will fit into any location and will attract players with its cool multi-colored LED glow lighting and clear prize display. Players have the unique perspective of looking over the top of the claw gantry to aim for their chosen prize, making for an exciting game. For the operator, flexible settings will allow a variety of prizes to be offered to their players