LAI Games announces its exciting new game line up for the upcoming European Amusement and Gaming (EAG) Expo taking place January 13-15, 2015 in London. The company will showcase the Mega Spin redemption game, prize merchandisers Color Match and Color Match Club, the candy vend Piñata and the Snapshot 2 photo booth. The games will be represented by the company's exclusive UK distributor, Harry Levy – Booth #640.
LAI's International Sales Manager, Steve Bryant said, "We're very excited because this is our first full exhibition being represented by Harry Levy's. We expect great things to result from the collaboration with them at the show and for the year ahead."
The EAG International Expo is held at the London ExCel Exhibition Centre in London's Docklands. In addition, this year the Visitor Attraction Expo is running in tandem, which will add another dimension to the event. More information on the events can be found at their websites: http://www.eagexpo.com/ and http://www.attractionsexpo.co.uk.
Color Match Club ©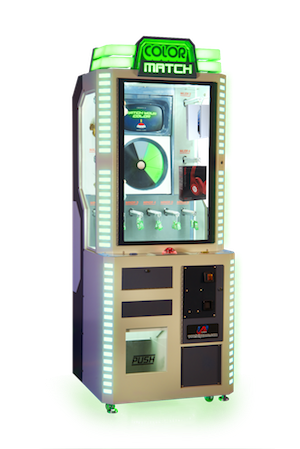 Color Match now comes in a compact size perfect for smaller locations and route operations! The stunning cabinet glows with multi-colored LEDs, with Major Prizes displayed and vended on prize arms. Minor Prize options include spiral vend, capsules, or tickets. As with all Color Match models, our user-friendly operator menu makes setup a breeze.
Mega Spin
Mega Spin is a mega-sized ticket redemption and 100% skill game! Players physically spin the giant wheel and either win tickets or move out to the next level where they can win even higher amounts of tickets. If they make it to the third level, they have a chance at the Major Prize or the Super Bonus Ticket haul! The huge, vibrant, glowing cabinet features three ticket dispensers for fast payout.
Snapshot 2
With fresh content, an intuitive, touch-screen user interface, and a host of modern photo-decorating features and filters, the Snapshot 2 photo booth gives players plenty to enjoy! The booth has dual cameras for the classic photo and popular "selfie" angles, and full mobile integration with the Snapshot mobile App available on iOS & Android. Players can transfer photos between the booth and mobile devices and share photos with an unlimited number of social networks and applications – plus import and print photos from their mobiles. With fully featured and upgradeable Classic, Masquerade, filter and decorate options, players have a huge choice to customize and print their photos. The folding cabinet makes for easy transport and Party Rental, and the quality dye-sublimation printer uses low cost media with no tie-in.
Piñata Candy
Piñata, the video redemption game where players whack a real-life drum to try to break the on-screen piñata, is now available in a candy vending version! Candy pay-out is adjustable and concise, and the huge candy hopper minimizes refills. Offers players 4 levels with 28 unique piñatas, and both English and Spanish language options. Our proprietary on-screen operator menu practically eliminates the need for a user manual!